" Ludlow….is probably the loveliest town in England with its hill of Georgian houses ascending from the river Teme to the great tower of the cross-shaped church, rising behind a classic market building." – John Betjeman, 1943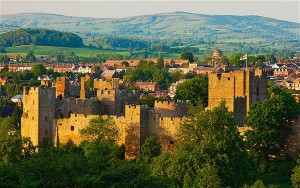 " The Feathers Hotel (is) the finest building in the finest town in the finest swathe of England, the only place in England other than London where I ever want to live. (Ludlow and its surroundings) doesn't have the regular provincial chip about not being London, but then it's not provincial – it feels autonomous, devolved, independent. It's like a de facto state,it's an English Andorra. And Ludlow is its capital." – Jonathan Meades, 2002 
" Has there ever been a visitor to Ludlow who hasn't wished
they lived there? " – Jeremy Paxman, 2009

The town is regarded by many as the finest market country town in the UK. It is renowned for its gourmet restaurants, eating houses, pubs and individual shops with quality service. There is an open air market in the town square most days of the week.
Ludlow is steeped in history;  there is a Norman castle and the skyline is dominated by the tower of St Lawrence's church, known as the cathedral of the Marches. It is situated in beautiful countryside and there are lovely walks direct from the town centre or further afield over the Stiperstones, Mortimer Forest, the Long Mynd and Church Stretton.
Visit Ludlow, the UK's first Cittaslow and you will be treated as a temporary resident: www.cittaslow.org.uk.
Further information from http://www.theludlowguide.co.uk/index.html
Things to See and Do
Ludlow offers a wide range of activities, places to eat and things to do – you will certainly never be stuck for something to see or do (or eat and drink).
Availability & Booking
View Availability or Contact Us for more details.